Faster Cooking
Thanks to its large heating element, the 1800W Flipkart SmartBuy induction cooktop heats food 85-percent faster than regular gas stoves. As a result, it is highly efficient and aids in speeding up the cooking process.
Energy Efficient
Up to 50-percent more energy-efficient than conventional gas burners, the Flipkart SmartBuy Induction cooktop consumes less energy. The wattage is consumed as per size of the vessel and its thickness. Not only that, you can check the power consumption for a particular duration post cooking.
LED Indicators for Easy Operation
The appliance features an LED display that helps you operate it with ease. The cooktop comes with a digital timer control that lets you control and set the cooking temperature as per the dish.
Pre-set Menus
This user-friendly induction cooktop comes with 7 preset menus. These pre-set cooking functions include Pressure Cook, Saute, Curry, Heat Milk, Dosa/Chapati, Deep Fry and Idli modes.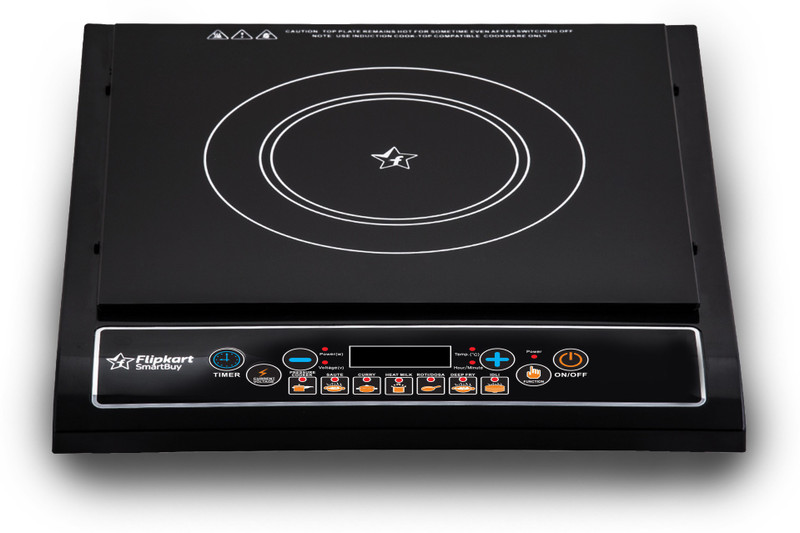 Usually Delivered in 7 - 8 days.
Rs.

1,475.00

Rs. 2,529.00
Good
This induction cooktop switches off automatically if the pot or pan gets too hot. It will start again after a few minutes when the pot cools down.
PROS
Type: Induction Cooktop
Worktop Material:Glass
Power Consumption: 1800 W
Color: Black
Push Button Controls
Add your review
In The Box
Sales Package
1 Induction Cooktop and 1 User Manual
General
Brand
Flipkart SmartBuy
model_name
1800ACFKSK174B
Model
1800ACSKB
Type
Induction Cooktop
Color
Black
General Features
Control
Push Button
Timer
Yes
Timer setting
3 hr
Power Features
Frequency
50 Hz
Power Consumption
1800 W
Power Input
230V AC,50HZ
Cord length
1.3 m
Safety Features
Automatic shut-off
Yes
Dimensions
Height
5.8 cm
Width
27.8 cm
Depth
33 cm
Weight
1.6 kg
Warranty
Service Type
For warranty claims or any product related issues please email at smartbuy@flipkart.com or call +91 80 46609211.
Warranty Type
For warranty claims or product related issues please email at smartbuy@flipkart.com or call +91 80 49129111.
Warranty Summary
12 months Limited Domestic Warranty
Covered In Warranty
1) Warranty is non-transferrable, valid only in the territory of India and extended only to the first end user customer (Customer). 2) Warranty will be valid only when the original purchase invoice is presented at the time of service. 3) Warranty will cover only functional parts and software issues having manufacturing defects and does not cover damages resulting from un-authorised adaptations/ adjustments/ tampering of the product, improper installation of the product, normal wear and tear caused due to use of product.
Not Covered In Warranty
1) Warranty does not cover damage caused to the product due to improper installation by customer; normal wear and tear caused due to use of product. 2) Warranty does not cover any external accessories to the product (such as battery, cable, carrying bag etc.) 3) All plastic, rubber, glass, or aesthetic parts and consumable replacements will be on a chargeable basis. 4) All transportation & handling expenses incurred while replacing or repairing will be payable by the Customer. 5) Warranty shall be voids if: a) The type or serial no. on the product has been altered, removed or defaced. b) The product is not operated as per the instructions given in the User Guide, if any.