Superior Image Quality
This camera's 24.2 MP resolution along with its DIGIC 6 image processor lets you capture high-quality images.
Picture-perfect Photos and Videos
Shooting stills or recording videos – this DSLR camera, with Hybrid CMOS AF III, ensures rapid autofocusing even when the subject is off the frame.
Bring Out Your Creativity
Thanks to its 19-point all cross type AF and creative filters, with this DSLR camera, you can explore your creative abilities.
Don't Let Lighting Come Your Way
No matter where you are, at the beach in bright sunlight or inside the forest with minimal light, with this camera, you can capture beautiful shots, thanks to its ISO range of 100 to 6400.
Touchscreen LCD
On its 7.7 cm touchscreen LCD, you can see what you have captured clearly. What's more, the LCD screen can be tilted in different angles as well.
Canon EOS 750D Body with Single Lens- Images
Rs.

44,511.00

Rs. 55,995.00
Rs.

44,511.82

Rs. 55,995.00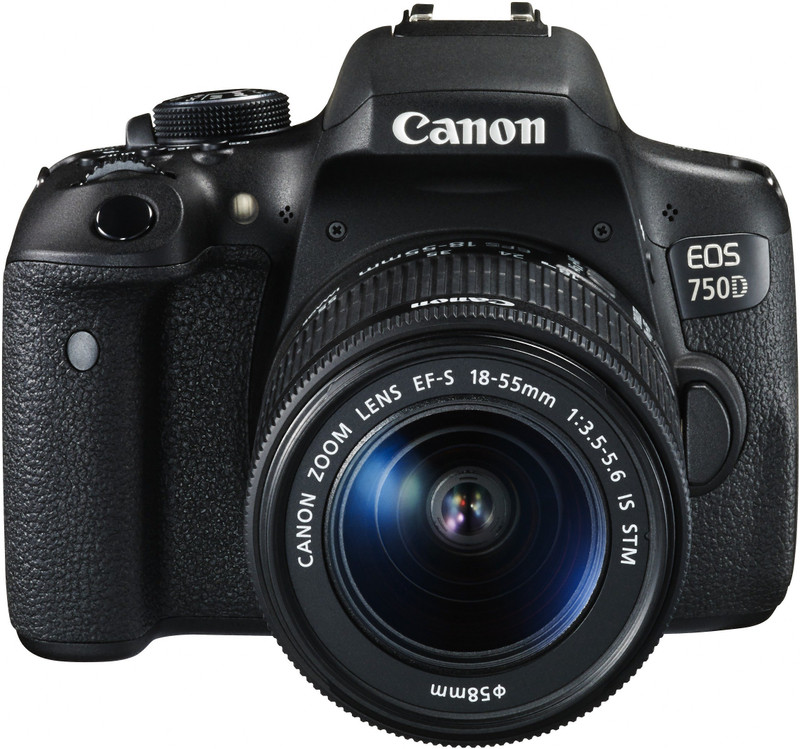 Usually Delivered in 3 - 4 days.
Extra ₹1000 off on Credit/Debit Cards
Extra 5% off* on Axis Bank Buzz Credit Cards
No Extra Cost EMI on HDFC Bank Credit Card
No Cost EMI on Bajaj Finserv EMI Card
Rs.

46,990.00

Rs. 55,995.00
Rs.

48,399.00

Rs. 55,995.00
Rs.

52,999.00

Rs. 55,995.00
Excellent
Meet the Canon EOS 750D - the DSLR that's crafted to enhance your photographic skills. Lightweight yet functional, this user-friendly DSLR camera lets you explore your creativity.
PROS
24.2 megapixel
CMOS image sensor
DIGIC 6 image processor
TFT colour liquid-crystal monitor
7 levels of manual brightness adjustment
ISO sensitivity: Auto ISO 100 - ISO 6400
19 cross-type AF points for focusing, f/2.8 at centre (except with the EF28-80mm f/2.8-4L USM and EF50mm f/2.5 compact macro)
WiFi and NFC supported
Rechargeable lithium-ion battery LP-E17 with 1040mAh capacity
Compatible battery charger
Add your review
General
Sales Package
Body, Lens, Battery, Charger
Model Name
EOS 750D
Series
Canon
SLR Variant
Body with Single Lens: 18-55mm (16 GB SD Card + Camera Bag)
Type
DSLR
Effective Pixel
24.2 MP
Wifi
Yes
Lens Attachment
Body+18-55mm
Maximum Shutter Speed
1/4000 sec
Sensor and Sensitivity Features
Sensor Type
CMOS
Sensor Size
Approx. 22.3 x 14.9 mm
Metering Modes
Evaluative, Partial, Spot, Center-weighted Average
ISO Rating
ISO 100 - 6400 (Auto)
Metering
63 Zone TTL Full-aperture Metering Using 7560 Pixels RGB Plus IR Metering Sensor
Other Sensor Features
Hybrid CMOS AF III
Other Sensitivity Features
ISO Sensitivity (Recommended Exposure Index): Basic Zone Modes (ISO 100 - 6400) Auto
Focus Features
Auto Focus
Yes
Manual Focus
Yes
Focus
Auto / Manual
Other Focus Features
19-point All Cross-type AF, AF / AE Camera, Autofocus (Type: TTL Secondary Image-registration, Phase-difference Detection with the Dedicated AF Sensor, AF Points: 19-points (Cross-type AF Point: Maximum 19-points), Focusing Brightness Range: EV (0.5 - 18) (Conditions: f/2.8 Sensitive Center AF Point, One-shot AF, Room Temperature, ISO 100), Focus Operation: One-shot AF, AI Servo AF, AI Focus AF, Manual Focusing (MF), AF Area Selection Mode: Single-point AF (Manual Selection), Zone AF (Manual Selection of Zone), 19-point Automatic Selection AF, Condition of AF Point Automatic Selection: AF Point can be Selected Automatically in One-shot AF Mode, Using Information on Colors Equivalent to Skin Tones, AF-assist Beam: Small Series of Flashes Fired by Built-in Flash)
Lens & Exposure Features
Type of Lens
Canon EF Mount
Lens Construction
16 Elements in 12 Groups
Lens Focal Length
18 - 55 mm
Aperture Range
F3.5 - F5.6
Shutter Type
Electronically-controlled, Focal-plane Shutter
Minimum Shutter Speed
30 sec
Manual Exposure
Yes
AE Lock/Exposure Lock
Yes
Other Shutter Features
Shutter Speeds: 1/4000 sec to 30 sec (Total Shutter Speed Range, Available Range Varies by Shooting Mode), Bulb, X-sync at 1/200 sec
Other Exposure Features
Metering Modes (Evaluative Metering (Linked to All AF Points), Partial Metering (6.0% of Viewfinder at Center), Spot Metering (3.5% of Viewfinder at Center), Center-weighted Average Metering), Exposure Control: Program AE (Scene Intelligent Auto, Flash Off, Creative Auto, Portrait, Landscape, Close-up, Sports, Special Scene Modes (Kids, Food, Candlelight, Night Portrait, Handheld Night Scene, HDR Backlight Control), Program, Shutter-priority AE, Aperture-priority AE, Manual Exposure), Exposure Compensation (Manual: +/-5 Stops in 1/3 or 1/2 Stop Increments, AEB: +/-2 Stops in 1/3 or 1/2 Stop Increments (Can be Combined with Manual Exposure Compensation)), AE Lock (Auto: Applied in One-shot AF with Evaluative Metering when Focus is Achieved, Manual: By AE Lock Button), Anti-flicker: Possible
Other Lens Features
Compatible Lenses: Canon EF Lenses (Including EF-S Lenses), Minimum Aperture: f/22 - f/36, Closest Focusing Distance: 0.39 m, Maximum Magnification: 0.28x (At 135 mm Focal Length), Field of View: 248 x 372 - 53 x 80 mm (At 0.39 m), Maximum Diameter x Length: 76.6 x 96.0 mm, Weight: 480 g, Lens Cap: E-67 II
Modes and Functions
External Flash
Yes
Built-in Flash
Yes
Flash Compensation
1/3, 1/2 Stop Increments in +/-2 Stops
Flash Metering and Control
E-TTL II Auto Flash
HD Support
Yes
File Numbering
Continuous, Auto Reset, Manual Reset
Delete Function
Yes
Self-timer
Yes
Dust Reduction
Yes
Wireless Remote Control
Yes
Other Features
Image Processing During Shooting (Picture Style: Auto, Standard, Portrait, Landscape, Neutral, Faithful, Monochrome, User Def 1 - 3, Basic+: Ambience-based Shots, Light / Scene-based Shots, Extra Effect Shot: Possible (In CA Mode), Noise Reduction: Applicable to Long Exposures and High ISO Speed Shots, Automatic Image Brightness Correction: Auto Lighting Optimizer, Highlight Tone Priority: Provided, Lens Aberration Correction: Peripheral Illumination Correction, Chromatic Aberration Correction, Distortion Correction), Self-timer: 10 sec Delay / Remote Control, 2 sec Delay, 10 sec Delay with Continuous Shooting, Post-processing of Images (Creative Filters: Grainy B/W, Soft Focus, Fish-eye Effect, Art Bold Effect, Water Painting Effect, Toy Camera Effect, Miniature Effect, Resize: Possible, Cropping: Possible), Direct Printing (Compatible Printers: PictBridge Compatible Printers, Printable Images: JPEG and RAW Images, Print Ordering: DPOF Version 1.1 Compatible), Number of Possible Shots (Based on CIPA Testing Standards): With Viewfinder Shooting (440 Shots at Room Temperature (23°C), 400 Shots at Low Temperatures (0°C)), With Live View Shooting (180 Shots at Room Temperature (23°C), 150 Shots at Low Temperatures (0°C))
White Balancing
Auto, Preset (Daylight, Shade, Cloudy, Tungsten Light, White Fluorescent Light, Flash), Custom, White Balance Correction and White Balance Bracketing Possible
Silent Shooting
Yes
Drive Modes
Single Shooting, Continuous Shooting, Silent Single Shooting, Silent Continuous Shooting
Auto Mode
Yes
Other Flash Features
Built-in Flash: Retractable, Auto Pop-up Flash, Guide No: 12 / 39.4 (ISO 100, in m / ft), Flash Coverage: 17 mm Lens Angle of View, Recycling Time: 3 sec, External Flash: EX-series Speedlite, FE Lock: Provided, Flash Control: Built-in Flash Function Settings, External Speedlite Function Settings, External Speedlite Custom Function Settings, Wireless Flash Control via Optical Transmission Possible
Sports and Action Camera Features
Spot Meter
Yes
Audio and Video Features
Video Format
MP4 (MPEG-4 AVC / H.264), Variable (Average) Bit Rate
Recording Features
Recording Format: Design Rule for Camera File System (DCF) 2.0, Compression Method: Standard / Light, File Size (Full HD (29.97p / 25.00p / 23.98p) (Standard): 216 MB / min, Full HD (29.97p / 25.00p) (Light): 87 MB / min, HD (59.94p / 50.00p) (Standard): 187 MB / min, HD (29.97p / 25.00p) (Light): 30 MB / min, VGA (29.97p / 25.00p) (Standard): 66 MB / min, VGA (29.97p / 25.00p) (Light): 23 MB / min, Focus Method: Same as focusing with Live View Shooting, Movie Servo AF: Provided, Focusing Brightness Range: EV 0 - 18 (at Room Temperature, ISO 100), Metering Modes: Center-weighted Average and Evaluative Metering with the Image Sensor, Metering Range: EV 0 - 20 (at Room Temperature, ISO 100), Exposure Control: Program AE for Movies and Manual Exposure, Exposure Compensation: +/-3 Stops in 1/3 or 1/2 Stop Increments, ISO Speed (Recommended Exposure Index) (With Auto Exposure Shooting: ISO 100 - 6400 Set Automatically, With Manual Exposure: ISO 100 - 6400 Set Automatically / Manually, Expandable to H (Equivalent to ISO 12800)), Miniature Effect Movie: Possible, Video Snapshots: Settable to 2 sec / 4 sec / 8 sec, Sound Recording: Built-in Stereo Microphones, External Stereo Microphone Terminal Provided, Sound-recording Level Adjustable, Wind Filter Provided, Attenuator Provided, Grid Display: Two Types, Still Photo Shooting: Possible, Movie Shooting Time (1 hr 20 min at Room Temperature (23°C), 1 hr at Low Temperatures (0°C))
Audio Video Interface
NTSC, PAL
Audio Format
MP4 (AAC)
Speaker
Built-in Speaker
Live View Shooting
Yes
Other Live View Features
Live View Shooting (Focus Methods: Hybrid CMOS AF III System (Face + Tracking, FlexiZone Multi, FlexiZone Single), Manual Focus (5x / 10x Magnification Possible), Continuous AF: Provided, Focusing Brightness Range: EV 0 - 18 (at Room Temperature, ISO 100), Touch Shutter: Provided, Metering Modes: Real-time Metering with Image Sensor, Evaluative Metering (315 Zones), Partial Metering (10% of Live View Screen), Spot Metering (2.7% of Live View Screen), Center-weighted Average Metering, Metering Range (Focusing Brightness Range: EV 0 - 20 (at Room Temperature, ISO 100)), Creative Filter: Grainy B/W, Soft Focus, Fish-eye Effect, Art Bold Effect, Water Painting Effect, Toy Camera Effect, Miniature Effect, Grid Display: Two Types)
Image Features
Image Size in Megapixels
L: 6000 x 4000 (24 M), M: 3984 x 2656 (10.6 M), S1: 2976 x 1984 (5.9 M), S2: 1920 x 1280 (2.5 M), S3: 720 x 480 (0.35 M), RAW: 6000 x 4000 (24 M)
Image Format
JPEG, RAW (14-bit Canon Original), RAW + JPEG Large Simultaneous Recording Possible
Aspect Ratio
3:2, 4:3, 16:9, 1:1
Continuous Shots
Yes, 5 Shots/sec
Other Resolution Features
Recording Size and Frame Rate (Full HD: 1920 x 1080 (29.97p / 25.00p / 23.98p), HD: 1280 x 720 (59.94p / 50.00p / 29.97p / 25.00p), SD: 640 x 480 (29.97p / 25.00p))
Storage & Power Features
Upgradable Memory
Yes
Card Type
SD / SDHC / SDXC
Power Supply
Battery Pack LP-E17, Battery Capacity: 1040 mAh
Battery Type
Lithium Battery
Power Requirement
DC 7.2 V (Battery)
Connectivity & Display Features
Microphone Terminal
Yes
GPS
Yes
Eye-fi Ready
Yes
PictBridge
Yes
USB
Hi-speed USB
HDMI
Type C Mini HDMI
Wifi Standard
IEEE 802.11b/g/n
Wireless Connectivity
Yes
Remote Control Terminal
For Remote Switch RS-60E3
Wifi
Yes
Display Size
3 inch
Touch Screen
Yes
LCD Display
TFT Color Liquid-crystal Monitor
LCD Display Image Resolution
1,040,000 dots
LCD Display Video Resolution
1920 x 1080
Other Connectivity Features
Audio / Video Out / Digital Terminal: Analog Video (Compatible with NTSC / PAL) / Stereo Audio Output, Hi-Speed USB Equivalent: Computer Communication, Direct Printing, GPS Receiver GP-E2, Connect Station CS100 Connection, HDMI Mini Out Terminal: Type C (Auto Switching of Resolution), CEC Compatible, External Microphone IN Terminal: 3.5 mm Diameter Stereo Mini Jack, Wireless Remote Control: Compatible with Remote Controller RC-6, Wireless LAN (Transmission Method: DS-SS Modulation (IEEE 802.11b), OFDM Modulation (IEEE 802.11g/n), Transmission Range: 15m, Transmission Frequency (Central Frequency): Frequency: 2412 to 2462 MHz, Channels: 1 to 11 ch, Connection Method: Infrastructure Mode, Camera Access Point Mode, Security: Authentication Method (Open System, Shared Key, WPA / WPA2-PSK, Encryption: WEP, TKIP, AES), NFC Connection: For Communication with Smartphones or Connection to Connect Station), Wi-Fi Functions (Connection to Smartphones: Images can be Viewed, Controlled, Received Using a Smartphone, Remote Control of the Camera Using a Smartphone, Images can be Sent to a Smartphone Easily, Transfer Images between Cameras: Transferring One Image, Transferring Selected Images, Transferring Resized Images, Print from Wi-Fi Printers: Images to be Printed can be Sent to a Printer Supporting Wi-Fi, Save Images to Connect Station: Images can be Sent and Saved to Connect Station, View Images Using a Media Player: Images can be Viewed Using a DLNA Compatible Media Player, Send Images to a Web Service: Images in the Camera or Links to Images can be Sent to Registered Web Services
Other Display Features
Create or Select a Folder: Possible, Touch Screen Technology: Capacitive Sensing, Feature Guide: Displayable, Playback (Image Display Formats: Single-image Display (Without Shooting Information), Single-image Display (with Simple Information), Single-image Display (Shooting Information Displayed: Detailed Information, Lens / Histogram, White Balance, Picture Style, Color Space / Noise Reduction, Lens Aberration Correction), Index Display (4 / 9 / 36 / 100 Images), Zoom Magnification: 1.5x - 10x, Highlight Alert: Overexposed Highlights Blink, AF Point Display: Possible, Image Browsing Methods: Single Image, Jump by 10 or 100 Images, By Shooting Date, By Folder, By Movies, By Stills, By Rating, Image Rotate: Possible, Ratings: Provided, Movie Playback: Enabled (LCD Monitor, Audio / Video Out, HDMI Out), Image Protect: Possible, Slide Show: All Images, By Date, By Folder, By Movies, By Stills, By Rating, Five Transition Effects Selectable, Background Music: Selectable for Slide Shows and Movie Playback, Custom Functions: 13, My Menu Registration: Possible, Copyright Information: Entry and Inclusion Enabled
Additional Features
View Finder
Yes
Viewfinder Type
Eye-level Pentamirror
Viewfinder Coverage
Coverage (Vertical / Horizontal): 95%
Viewfinder Magnification
0.82x (-1 m-1 with 50 mm Lens at Infinity)
Viewpoint Dioptric Adjustment
Built-in Dioptric Adjustment: -3 to 1 m-1
Viewfinder Eye Point
19 mm
Processor
DIGIC 6 Image Processor
Tripod Socket
Yes
Wide Angle
Yes
Maximum Burst
JPEG Large / Fine: 180 (940) Shots, RAW: 7 (8) Shots, RAW + JPEG Large / Fine: 6 (6) Shots
Temperature
0°C - 40°C
Microphone
Built-in Stereo Microphone
Brightness Adjustment
Manual (7 Levels)
Supported Languages
25
Other Viewfinder Features
Focusing Screen: Fixed, Precision Matte, Grid Display: Possible, Mirror: Quick-return Type, Depth-of-field Preview: Provided
Dimensions
Camera Body Weight
555 g
Weight Without Battery
510 g
Dimensions
131.9 (W) x 100.7 (H) x 77.8 (D) mm
Warranty
Warranty Summary
2 Years Canon India Warranty and Free Transit Insurance